digital village registration 2022,e digital village login,digital village scheme,
csc digital village vle list,digital village login,csc digital village registration 2021,digital village services,digital village project,
digital village scheme | digital village login| digital village project
digital village project for ccc | digital village list| digital gaon yojana| e digital village login| digital village pilot project, "CSC Digi Gaon" Digital Village digigaon Yojana, CSC-Vle Registration,
"CSC Digi Gaon" Digital Village Yojana
"CSC Digi Gaon" Digital Village Yojana:- Better performance of CSC in various schemes of the government and all the schemes of the government!
CSC has contributed immensely in reaching the masses. Keeping that in mind (Ministry of Electronics and Technology, Govt of India)! The government has launched the CSC Digital village digigaon scheme!
Within which all selected village panchayats from each block were selected and all of the CSCs were there on behalf of the government.
Facilities like Skill Development, Digital Literacy, Health, Production, Distribution, Legal and Banking facilities! To reach every gram panchayat, vle has 3 laptops on behalf of the government. 1 Printer is provided and apart from this, almost all the features of CSC are provided.
Digital Village Banner & Poster Download
Friends, if your CSC Center is selected within CSC Digital Gram Yojana!
So you can download and print the "CSC Digital Gram Banner Poster" from the link given below!

CSC Digital Village Banner Poster Now
VLE apply CSC Digital village digigaon Yojana
If you are an active CSCVL Yi and you want to make your village panchayat a digital village or! If you want to be included in the Digi village scheme, then you have to go to the District Manager or DISTRICT VLE SOCIETY office of your district and get information for this scheme!
CSC Digi Gaon
You can also get information at someplace through the CSC District Manager of your district, where you can send your name to the "Digital Village Scheme" after completing the required eligibility.
Eligibility For CSC Digital Village Scheme
There is no Specific Elegibility Conditions for inclusion of name in csc Digigoan or Digital Village scheme! But in this scheme, 15-gram panchayats are to be selected from each block! In which first preference will be given only to that vle who
Soon, the district CSC team will conduct on-site inspection of all the applied centers and the number of selections in the digital village of the center will be sent to a higher level.
CSC Vle Essential Mandatory Service List
*VLE Sinto Mohan, Kottayam completed 500 Kissan Credit Card (KCC) applications though CSC.*
He is also active in CSC Digital Village, Wifi Choupal, Banking and Education services. Already completed manufacturing of 600 LED bulb and its distribution through CSC pic.twitter.com/L9rbdHWf3K

— dinesh tyagi (@dintya15) March 17, 2020
CSC Digital Village Registration Process 2022
CSC Digital Gram (Digital Village) Selection and Data Capture Process
The data for selection within the Digital Village Scheme has started to be collected by the CSC District Manager, the scheme will be implemented across the country! If you have not yet received the information from the District Manager of your district! So keep checking with your district manager! The vle selection process for this scheme will be completed within the next few months!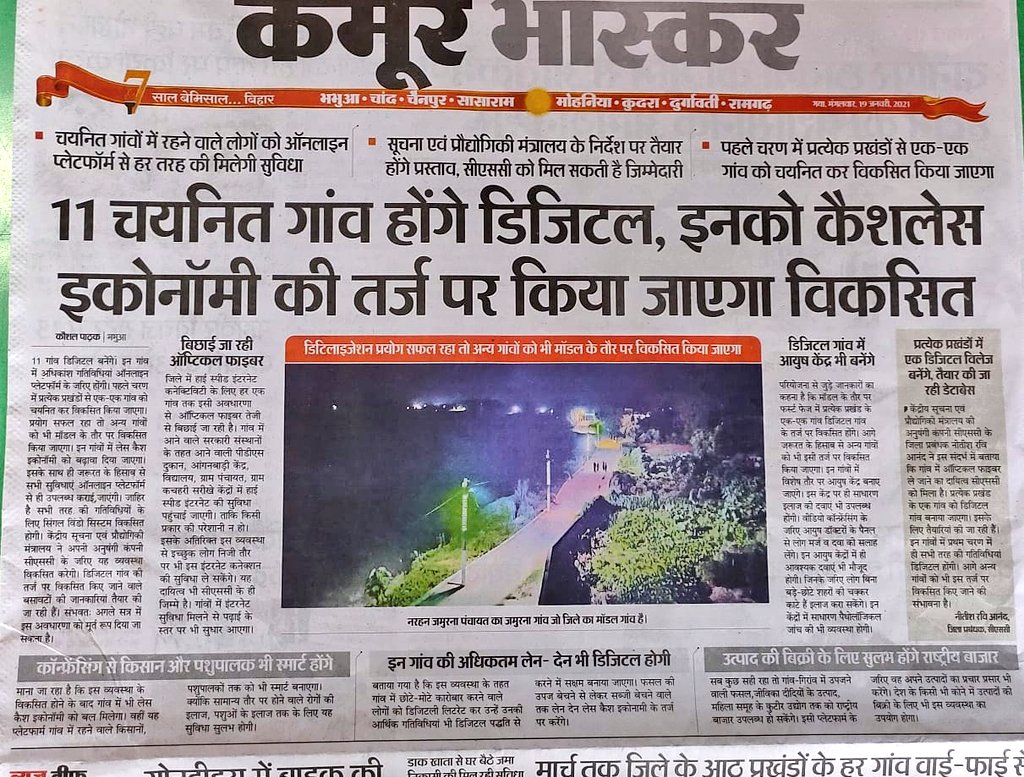 How to know if your VILLAGE is SELECTED or not?
Friends, if you want to know that your gram panchayat is in the government's Digital Village Scheme! Or else you can get information about your gram panchayat by visiting the link given below! CSC DIGITAL VILLAGE LIST: http://www.digital-village.in/ And if your name is not in this list! So your name is not in the 700 Digital Village selection list of 2018! But you can apply for 1 lack District Village Selection Process in 2021 with your CSC Dm / Society! CSC Digi Gaon
Household Survey being conducted by CSC VLE's under the Digital Village Project. The survey is being conducted across 700 villages covering 700 districts nationwide. pic.twitter.com/s9DJL3o6pe

— Digital Village (@digitalvillage7) January 7, 2019
What to do if your name is in the list
If the name of your gram panchayat is showing on the link given above, then towards CSC An email or SMS must have come from, in which you have access to CSC STATE office, 3 laptop, and a printer
If you have not received any such mail, you should ask your District Manager or Can talk in state office.
CSC HDFC Digi Goan Digital Village Scheme
Friends, if your name is not selected for CSC Digital Village from the Ministry! So you don't have to worry at all! You can apply to make your village a CSC Digital Village under CSC HDFC Bank Digi Goan Scheme! But after talking to the CSC District Manager for this! Payment has to be made for Led Manufacturing Unit! Which is around 40 thousand! Through which you can also start the work of making New Led Bulb at your center! CSC Digi Gaon
On #GoodGovernanceDay , a trip by #MyGov to Guruwara village in Rewari District, Haryana, to see a new Digital Village set up by CSC SPV. Digital villages create more employment opportunities for villagers! @_DigitalIndia@rsprasad @GoI_MeitY @CSCegov_ pic.twitter.com/393U2noM8y

— MyGovIndia (@mygovindia) December 25, 2019
FAQ CSC Digi Goan
What is a digital village?
The CSC Digital Village will have a one-stop service solution for citizens of rural areas, providing them with quality services such as telemedicine, financial services, internet connectivity and other government-to-citizen (G2C) and business-to-consumer (B2C) services , Which are readily available at affordable prices around the year.
What is Digital Village project?
The CSC Digital Village Project aims to integrate technology into the everyday lives of children and families. Children in SOS families, young people in SOS youth homes, and SOS parents have access to computers and the Internet to help them develop digital literacy.
Which is the first digital village in India?
India's first CSC digital village in Akoda.
What is the last village of India?
Situated in the Chamoli district at an altitude of 3200 meters in Uttarakhand, Mana village is situated on the banks of the Saraswati River, and is about 5 km from the famous Hindu pilgrimage Badrinath. This beautiful hamlet is 24 km from the India-China border, making it the last village in India.
CSC Digi Gaon